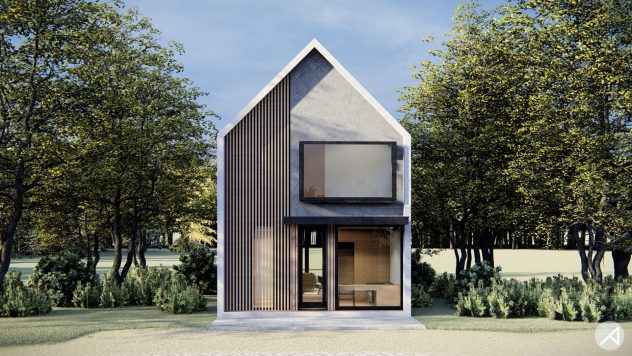 Modern 3-Bedroom Compact Small House Plan, 1150 sq ft, with 20' x 31' footprint only!
If you are concerned about eco-friendly living, or just want to build a small detached guest house at the back of your property, this compact small house design might be suitable for you.
This 3-bed small house plan has only 20′ x 31′ footprint and also potentially be built in modules. So the construction and maintenance costs can be significantly reduced, making this house super affordable. 
General house specification:
1,150 sf 2-story structure

3 Beds + 1 Small Den
1.5 Baths⁠⠀
20'-0" W x 31'-0" D
Laundry / utility storage room
Outdoor porches
Attic spaces for future development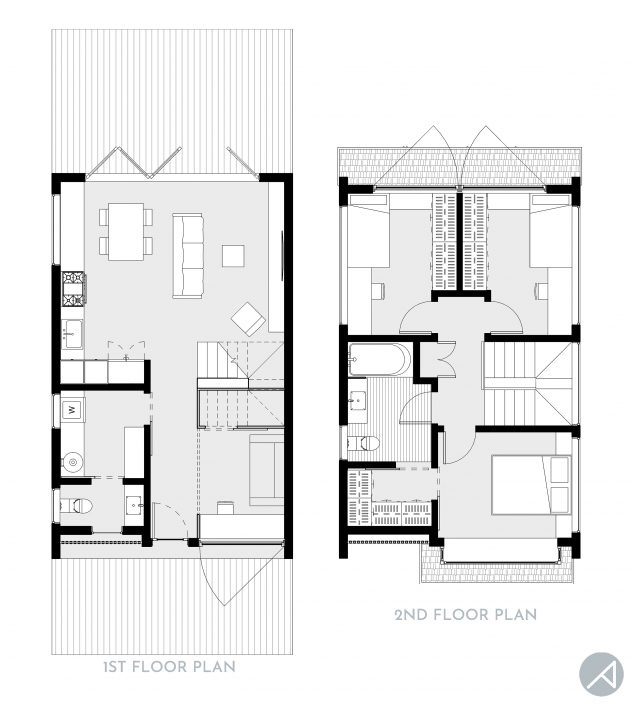 The Design
This small house plan is suitable for a very tight and small plot of land. You can also build this as an off-grid independent cabin or secondary unit / detached ADU / granny suite. 
The original design comes with a slab foundation. You can also opt for either basement structure (with extra living space) or with a crawl space – depending on the existing site condition where you are planning to build. 
Despite its tiny shape, this house has ample natural lights. The interior looks spacious due to its compact and efficient layout and its modern full-height windows.
We use natural material finishes with modern touch for the exterior, e.g. stucco / cement finish, stones, metal roof, wood slats or siding clapboard (optional) and black frame door windows.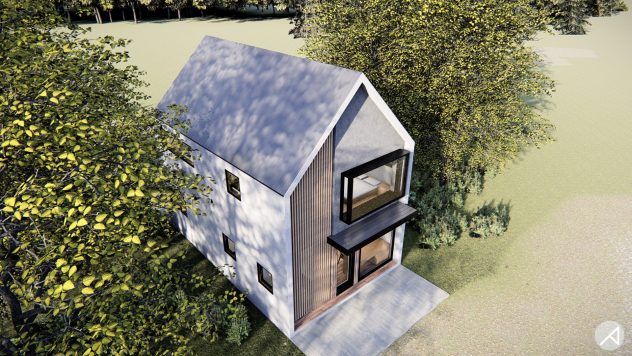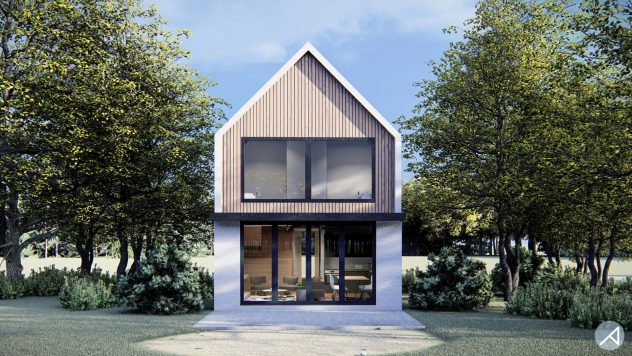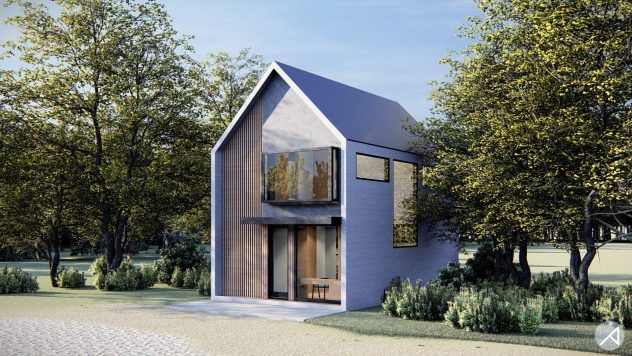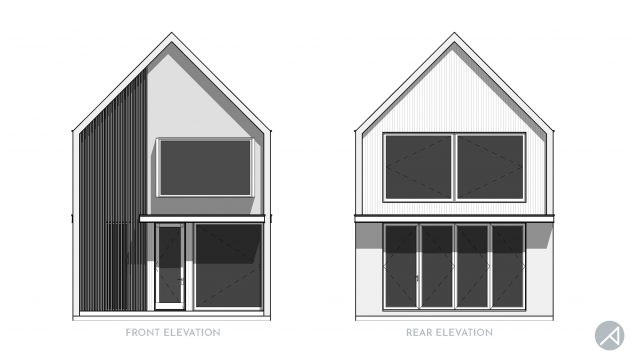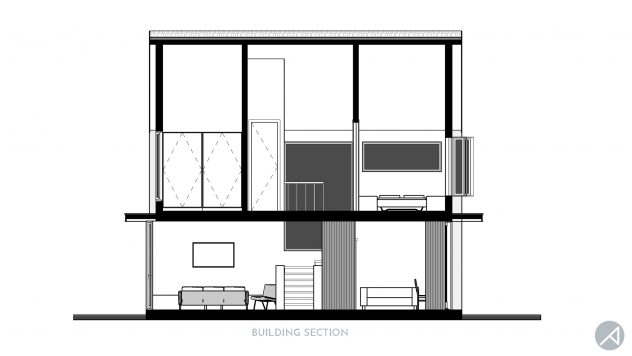 Other Tiny House Plans
If you would like to see the smaller version of this compact small house plan (760 sq ft), please check this Tiny House Plan.
Purchasing this 3-Bedroom Compact / Small House Plan
This house plan is available for purchase, either the original design or modified version. We can modify the architectural design and drawings to suit your needs. For example: reshape and resize the house so it can fit your land, rearrange the rooms and internal layout to fit your family needs and requirements, or modify the facade design, windows and roof.
The Basic Plan Set
The basic plan set is available in vector PDF and DWG/CAD formats. The basic package includes the following items:
Floor Plans 

Roof Plan

4-side Building Elevations

Building Sections (min. 2)

Exterior and/or Interior Rendering Images (min. 10)

A Non-Exclusive Personal Single Use License
Additional drawings and other architectural design services are available if needed; e.g. additional drawings such as foundation plan, electrical plans, site plan, interior drawings, permit set, etc.
Costs to build the house per square foot varies depending on several factors. Usually you can use our basic house plan or drawing set to obtain an initial cost estimate from a local builder in your city / country. Furthermore, if you buy our house plans, you can always customize the original design and plans to suit your preferences and budget (e.g. change the layout and square footage, modify door-window types and sizes, change some architectural material finishes, etc).
How It Works and Pricing
Please read our How It Works page for more details about our packages and typical project workflow. Please also visit Our Services and Products page to see the details and quality of our architectural drawings. If you want to estimate our design fees, please see our current Price List.
Contact Us
Most answers to general queries can be found on our FAQ page. If you have other enquiries about information that is not provided yet, feel free to contact us here:
If you are interested in studying the schematic set before ordering the blueprint / House Plan set (especially if you want to make changes), please order the Starter Kit here:
If you are interested in purchasing the House Plan directly and want to get a quote / fee proposal from us, please fill out this form:
We also offer architectural services to make custom / bespoke designs, either for new build or remodel/renovation projects. If you would like to get a quote / estimates from us, please use this form to describe your project and place your order:
All images and drawings are protected by copyright and not to be produced, copied, or edited in any format without written consent from ANK Studio.