Start an Online House Design Project With Us
Whether it is a new build or a remodel, building a home is a lot of work. No matter where you are, we are here to help you to navigate home design and planning processes, as well as prepare a home plan for you, so that your home building journey would be an enjoyable experience.
We have various home design, drawing and documentation packages for different types of residential projects. You can purchase a pre-designed House Plan template in our Archistock collection (original designs). Or you can choose one design template that suits your personal requirements best, then customize and personalize it to ensure its permissibility, feasibility, and buildability. If you are still considering different designs, you may purchase more than one House Plans that you are interested in and have the option to combine some design features from different plans.  
Apart from our pre-designed House Plans, we also offer Custom Home Design Services, where we will design your home projects from scratch, either for single or multi-family residential, home remodel, interior design, exterior design, etc.
01. Selecting a Design Package: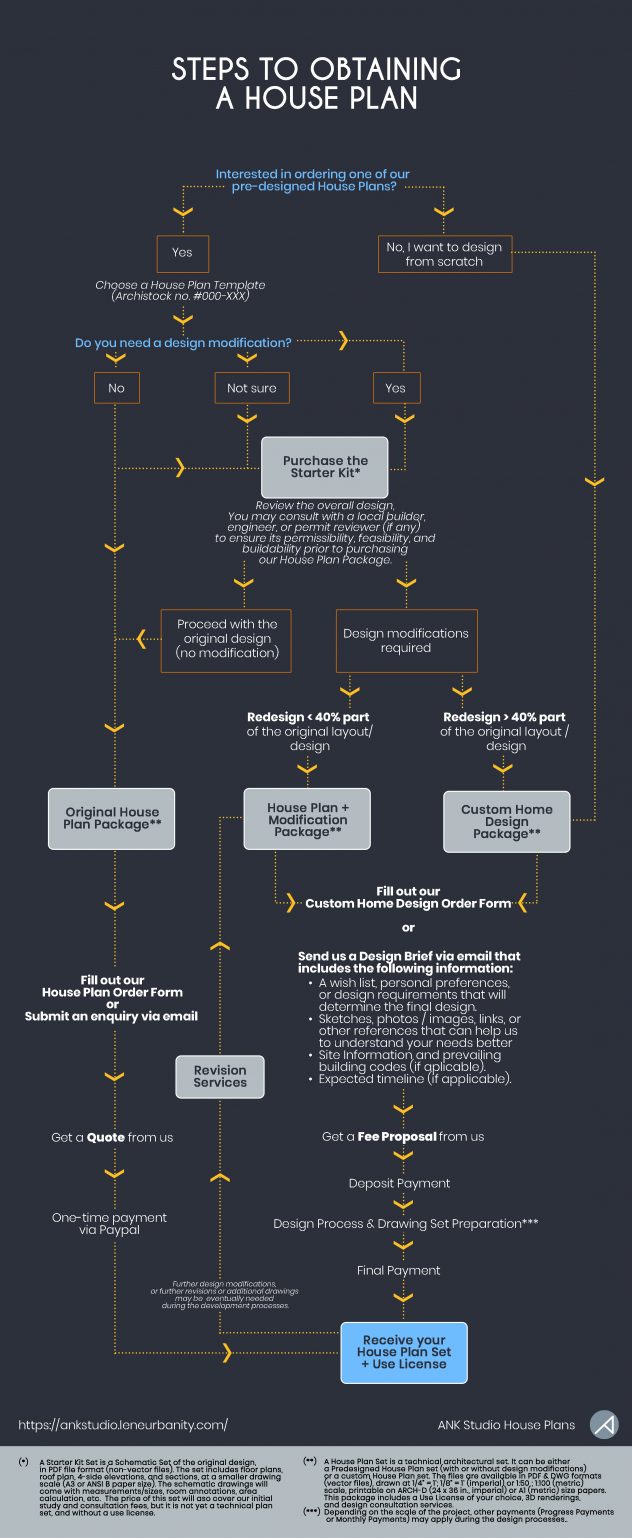 02. Basic House Plan Package
Each design has 2 types of architectural plan / drawing set: Starter Kit and House Plan. You can either buy the Starter Kit first or buy the House Plan straightaway:
Starter Kit Set
A Starter Kit is a Schematic / Conceptual Set of the original design, in .PDF file format (non-vector files). The set includes floor plans, roof plan, 4-side elevations, and building sections at a smaller scale (A3 or ANSI B paper size). This set of schematic drawings will come with measurements/sizes, room annotations, basic area calculation, etc. The price of this set will also cover our initial study and consultation fees,  in case you need to discuss the design with us.
Buying a Starter Kit would be useful if you would like to review the overall design, make sure that the concept is suitable for you, before purchasing the House Plan (blueprint / advanced drawing set). You may also review the schematic plans together with a local builder, permit reviewer, or consultant in your city to get a sense about the projected cost of build, its buildability/ permissibility. You may explore the possibility of making changes and study the trade-offs between things e.g. the architectural aesthetic, project budget, particular construction methods and building material selection. 
Please keep in mind that the Starter Kit is not yet a technical architectural plan set, and without a use license. Later, if you decide to move forward with our design, you would need to upgrade from this package to the House Plan Package.
Original House Plan Set
This is a technical architectural drawing set (design development stage) that already follows universal design standards. . The original design set is available in PDF & DWG formats (vector files), drawn at 1/4" = 1'; 1/8" = 1' (imperial) or 1:50 ; 1:100 (metric) scale, printable on ARCH-D (24 x 36 in., imperial) or A1 (metric) size papers. The basic set will include:
Architectural drawing set: Floor Plans (including basic furniture and appliances layout), Roof Plan, Elevations (4 sides of the house), Sections. All drawings will have technical annotations, measurements, door window schedule, room area, material schedule, etc.

3D renderings (in colors), showing the exterior and interior views of the design with or without modifications.

Non-Exclusive Personal Single Use License

Online consultation service via emails (or other visual and written medium)
Modified House Plan Set / Non-standard
Apart from the basic house plan set package, you may customize the architectural plan set at an additional cost and request for:
Design modification services

, to redesign / modify the original set (the original design, 2D drawing set, and 3D renders). The exact design fees and turnaround time highly depends on the list of changes & adjustments that you request (i.e. the workload, whether the changes are considered as minor or major works).

Modifications or revision works can be requested prior or after purchasing / obtaining our house plans. All plans can still be modified / adjusted to a particular local standard in your city to ensure its permissibility, feasibility, buildability, and affordability. Once you obtain our drawing set, it is advisable to consult with a local builder or construction engineer and ask for their feedback on the design. Depending on the common construction methods, the associated local project-related costs, and the prevailing building codes applied to your land lot, usually builders and local engineers can help you to develop the project from our architectural plans without making substantial changes to the design. They may execute minor design modifications and generate ad-hoc technical solutions for construction purposes, e.g. change the thickness of the walls, roof structure, building materials, or design the foundation system, set the mechanical/ electrical points, etc. In the development process, you can still get back to us if you still need our services or feedback from an architectural point of view. 
Additional or non-standard architectural drawings

, i.e. Site Plan, Foundation plan, Electrical plans, Ceiling plans, Basement plan, other architectural or interior details, etc. The additional costs depend on the number of items, complexity of the drawings, and whether it requires analytical works or coordination with other engineers. To avoid double costs and to make sure that you really need the additional drawings from us, please do consult with your builder or local engineer first and check if they may possibly include / produce the same drawings.

Direct consultation

(video calls, teleconference), by appointment only if necessary. The fees are on an hourly basis, including the hours needed to produce Minutes of Meetings or written results of the meetings. 

Other items / special requests that are not included in the basic package.
03. Custom Design or Modified House Plan: Defining Your Requirements / Design Brief
If you want a Custom Design Package or need to make changes to a pre-designed House Plan, please do provide us with the following so we can precisely estimate the total workload, additional fees, and total turnaround time:
Design brief or a wish list summary regarding the changes, maybe with sketches, photos/mood images or other references to help us understand your vision and requirements better.
Comments on a Starter Kit (for House Plan package only). If you have bought a Starter Kit, you will be able to print the drawings and sketch / make some notes directly on them. Please review/study the overall design, as well as check its buildability/permissibility. Feel free to give comments and let us know in detail / comprehensively about how you would like to make changes – apart from the initial modification request that you wrote in the form.
Site Information about the property site, existing condition & topography that we can study. It would be great if you have a site surveyor map, site photos, or address information so we can study the surrounding environment through google map (if applicable).
Building Code References, or any requirements / restrictions from the city that may affect / determine the final design e.g. boundaries, setbacks, max. Coverage area, max. height, etc. (if applicable).
Timeline:

In many cases, timing is crucial. We would like to know if there are certain milestones you are planning to achieve, e.g. when you must start the construction, if you have an appointment with a permit reviewer soon, if you need to move in soon, etc. 
04. Getting a Quote / Fee Proposal and Q&A Sessions
Please email directly to leneurbanity [at] gmail.com or select a house plan package that is suitable for you and fill out the form to get a quote / Fee Proposal from us:
If you are asking for Custom Home Design or Modification Services, please send us some details in regards to your requirements (see section 03: Defining Your Requirements / Design Brief), so we can precisely estimate the total workload, additional fees, and total turnaround time. We'll study your requests and reply within 1-3 business days.
We will always send a formal Fee Proposal for your review and approval before starting the project. During this process, we will ensure that we comprehensively understand all of your requirements.
In the Fee Proposal that you will receive, we will define the scope of works / services, the turnaround time, list of drawings / deliverables, the type of license you will get, our general Terms and Conditions, as well as the associated fees and payment terms that we estimate based on the given design brief. We might also send some drawing samples for your reference.  At this stage, you are free to ask us anything, and to make sure that you are ordering the right package and comfortable with our terms and conditions.
Important Notice:
Prior to contacting us, please do check our price / design fee estimates here: 
Please do ask for proposals only if you are ready to order one of our packages and able to provide us with a comprehensive design brief or information. Due to our time constraints, we are focusing only on well-defined project briefs. If our system identifies conflicting information or unspecified requests, we may not be able to process or prioritize your enquiries.
05. Typical Design Processes
Once you approve our Proposal, we will start designing, visualizing your dream home, and preparing your House Plan set. Depending on the size and complexity of your project and requirements, the typical design processes* would be as follows:
Schematic / Conceptual Stage: At first, there might be additional clarification / Q&A sessions via emails to double check your Design Brief. After all items in the brief is clear, normally (for a standard custom design package), we would need 2-3 weeks to come up with the first schematic design set (2D & 3D). The turnaround time is generally shorter for Pre-Designed House Plan packages.
Design Refinement Stage: After you receive the schematic set, feel free to explore the design and give comments in case you need a concept revision. Usually, it takes 1-3 weeks to get feedback from you and refine the concept. The turnaround time highly depends on your response time and reciprocal coordination between us.
Final Design Stage: Once you are happy with the schematic house plan, we will ask you if we can freeze the design and start preparing the final House Plan drawings. The usual turnaround time for preparing a Modified House Plan and Custom House Plan sets after Design Freeze is around 1-2 weeks and 2-4 weeks, respectively. It could take more than 4 weeks if the workload is heavier or we need to design from scratch. 
At the end of the service, you will always receive one set of architectural drawings as the end-product of our services. For reference, you can view the quality of our architectural drawings here.
(*We will define the specific timeline and turnaround time for your particular project in our Proposal)