The House Layout 
This Scandinavian-style Modern House Plan comes with a double story layout, a front entry, as well as a pool and garden at the rear side. The main core of the house is in the middle. Living room, dining, kitchen, storage, and laundry rooms are on the first floor, while bedrooms are on the second floor.
Square footage of the first floor is larger with 2 'annexes' on both sides. One is a double garage annex with an outdoor patio behind it. And there is a guest suite or home office annex on the other side. Depending on your land shape and what you need, these 2 annexes can be modified, removed, expanded, or turned into other rooms or functions.
The original house layout is suitable for building a home on a land with sizable landscape or nature at the back as the main view. The main living area and master bedroom are facing towards the backyard. The interior is mostly open and airy. We also provide a spacious outdoor living area that is seamlessly connected to the main indoor living dining room. And there are two linear private balconies facing the front and back of the house on the second floor.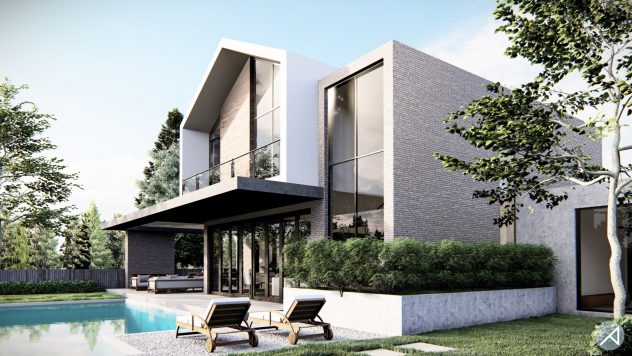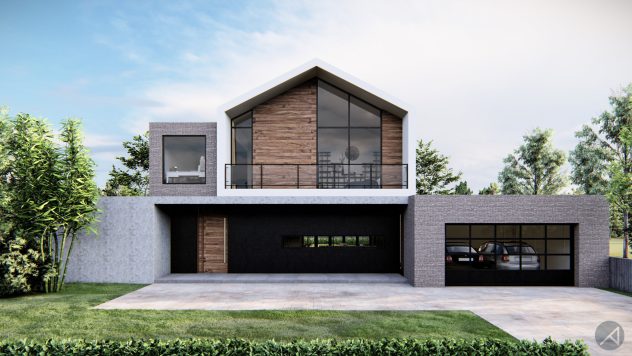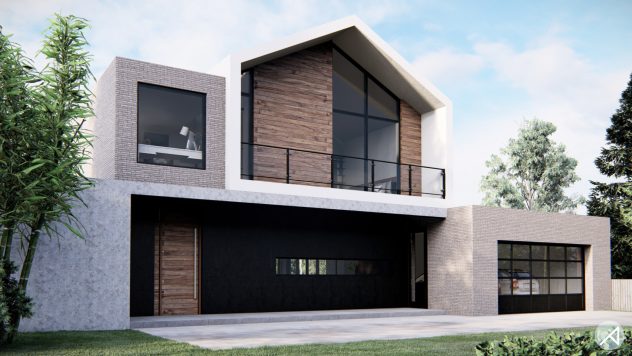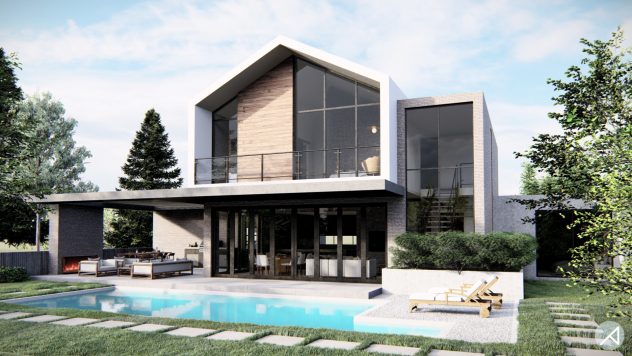 The Architectural Style
The principles of minimalism, simplicity, and functionality inspire our Scandinavian-style Modern House Plan. The general style has a contemporary modern touch with clear division of spaces and clean lines. It is characterized by a simple look with bold pitched roof accents and shapes. Lighting is everything. You will find floor-to-ceiling glass doors and windows in the most important rooms that will maximize natural lights. The windows area also to endorse natural ventilation and seamless outdoor views at every turn.
The original architectural design offers neutral-colored, layered, and warm materials to create cozy ambiance throughout the house. We use pale-colored brickworks, concrete finish, off-white painted walls, and wooden accents for both exterior and interior of the house. The bedrooms have vaulted ceilings.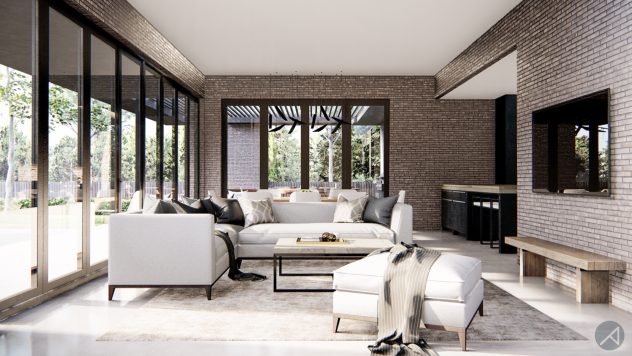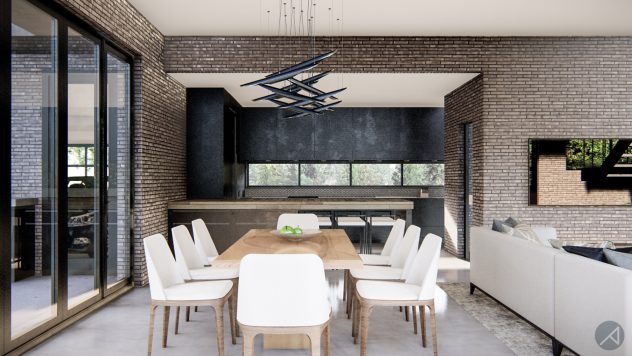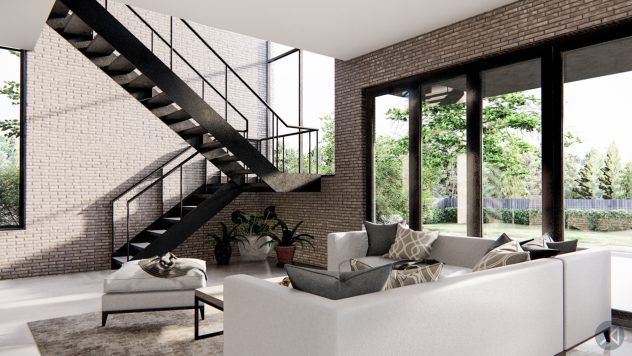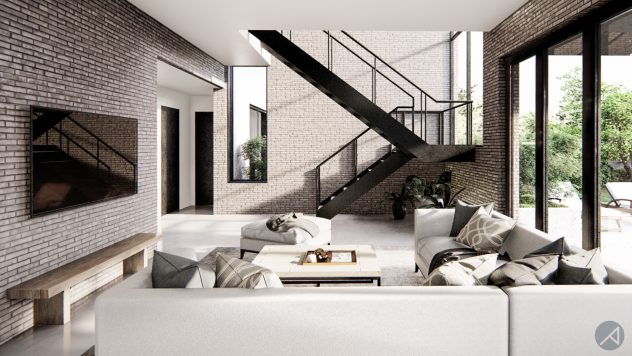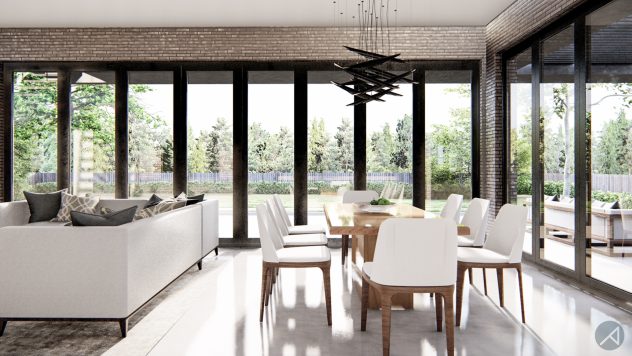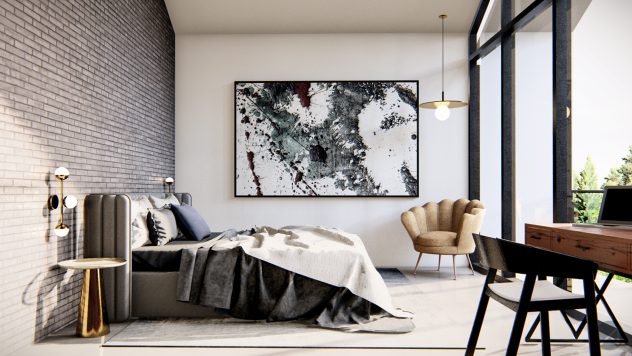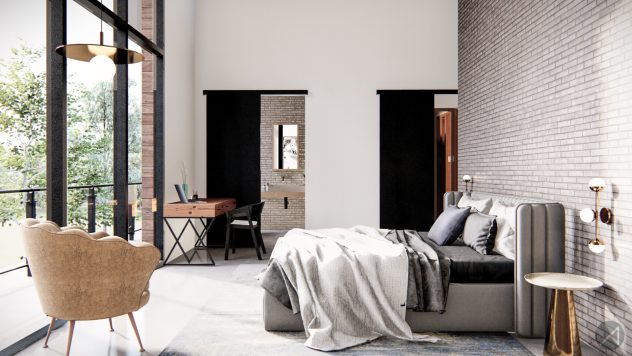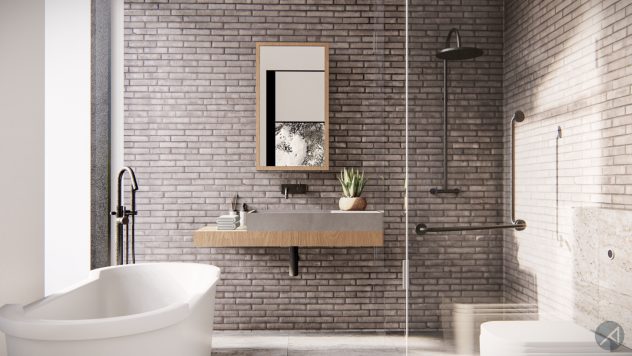 Scandinavian-style Modern House Plan Specifications (Original Design) Archistock No. 000-015:
2,550 sf, 2-story structure 

4 Bedrooms 

3 Baths⁠⠀

74'-3" Width x 37'-9" Depth

2-car garage (580 sq ft)
All images and drawings are protected by copyright and not to be produced, copied, or edited in any format without written consent from ANK Studio.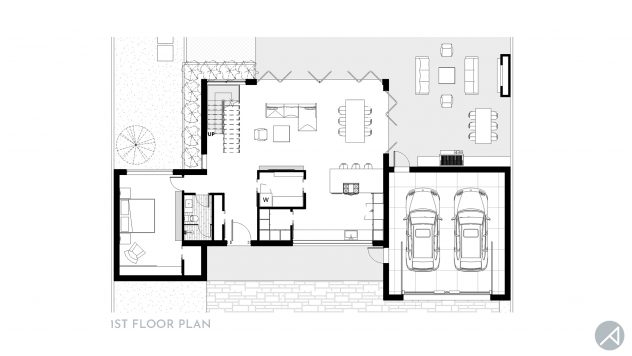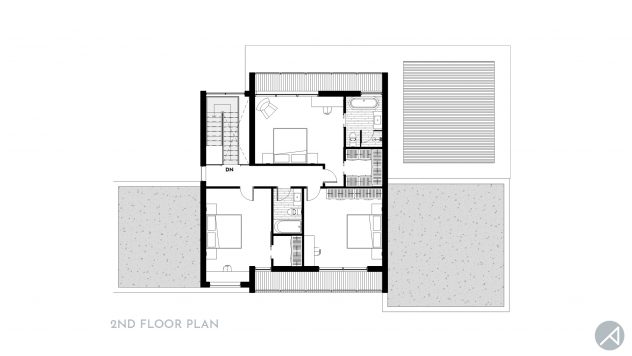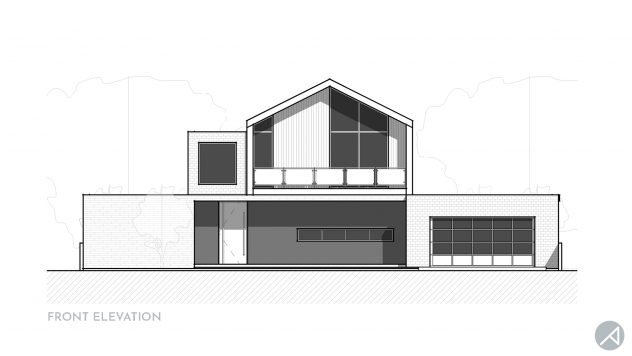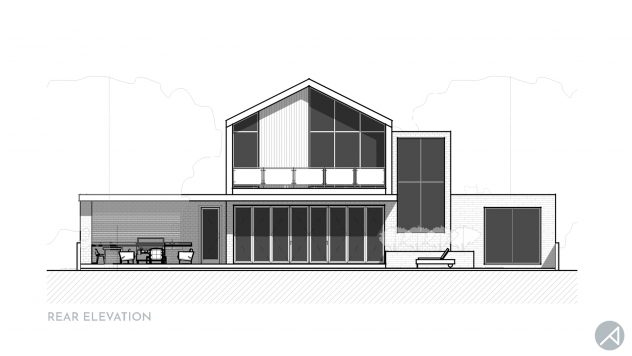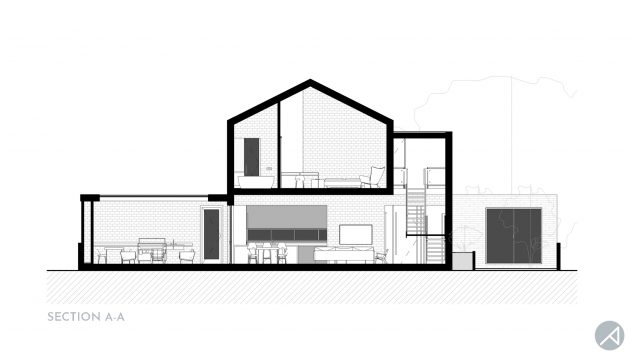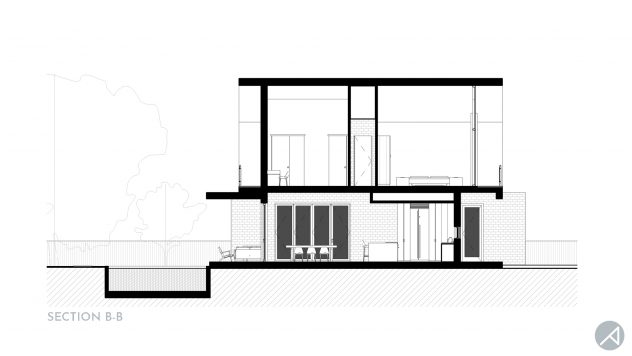 Purchasing This 2,500 sq ft Scandinavian-style Modern House Plan
This house plan is available for pre-order / purchase, either the original design or with design modifications (custom). We can modify the architectural design and drawings, e.g. reshape and resize the house so it can fit your land, rearrange the rooms and internal layout to fit your family needs, modify the windows and roof, as well as change / add the garage (including its location) or add a full basement. Mirrored plan is also available. 
The Basic Plan Set
The basic plan set is available in vector .pdf and/or .dwg formats. The set includes the following drawings:
Floor Plans 

Roof Plan

4-side Building Elevations

Building Sections (min. 2)

Exterior and/or Interior Rendering Images (min. 10)

A Non-Exclusive License for 1x personal use
Custom plan sets / other drawing packages are available if you need additional drawings e.g. foundation plan, electrical plans, site plan, interior drawings, etc; or if you require a specific plan set for permit application / other purposes.
The package will not include cost estimates. Costs to build the house per square foot will vary across cities and countries, depending on several factors, e.g. building materials / products that you select, the location and site condition where you want to build it, types of structural system / foundation, whether you need design modification or local permit, etc. Usually you can use our basic house plan / drawing set to obtain an initial cost estimate from a local builder in your city / country. Furthermore, if you buy our house plans, you can always adjust the original design and drawings to suit your budget.
How It Works and Pricing
Please read our How It Works page for more information. If you want to estimate our design fees, please check our current Price List.
If you are interested in buying the schematic set before ordering the architectural House Plan set (especially if you want to make changes), please order the Starter Kit here:
If you want to get a quote / fee proposal for our pre-designed house plan, please fill in this form:
We also offer architectural services to design and develop a custom house plan. For inquiries regarding pricing, what are included in the drawing set, and info on how we work, please contact or write an email directly to us. If you've got all the information in hands and would like to get a quote from us, please use this form to place a custom design order:
All images and drawings are protected by copyright and not to be produced, copied, or edited in any format without written consent from ANK Studio.