4-Bedroom Contemporary Scandinavian House Plan
This modern Scandinavian House Plan comes with 4 bedrooms and 3 1/2 baths. It is a double-story structure, and the finished built area is 3,650 sq ft (excluding garage and basement). The building has a simple yet elegant modern black-and-white contemporary style with distinctive façade features.
The living and entertaining areas are on the first floor. And there is also an office / den room near the entrance. The bedrooms (including a master suite) are located on the upper level. The house has a detached double garage at the back of the house, which can relocated to the front or either sides of the house.
Interior and exterior spaces blend together creating a seamless, open and spacious home, thanks to the big windows and skylights. There is also an open roof deck in the attic, which can become a sunroom or a stargazing spot at night. This roof deck functions as additional upper outdoor living and brings more lights into the house.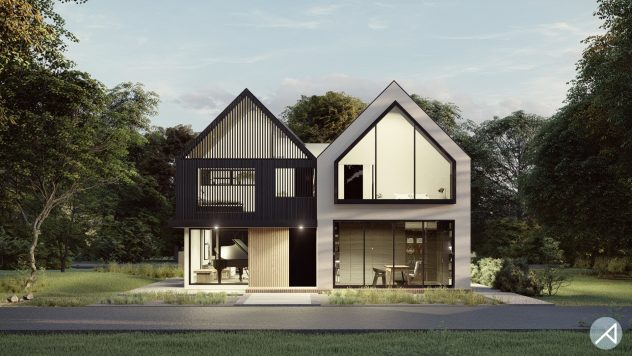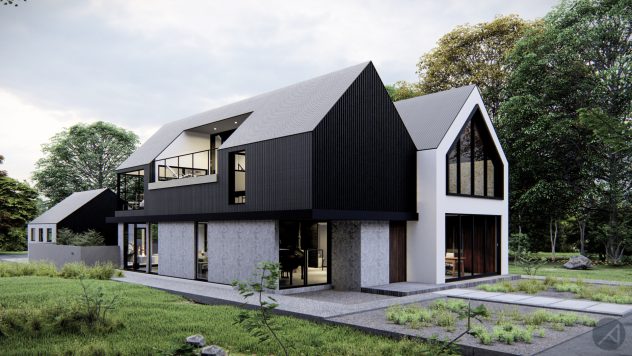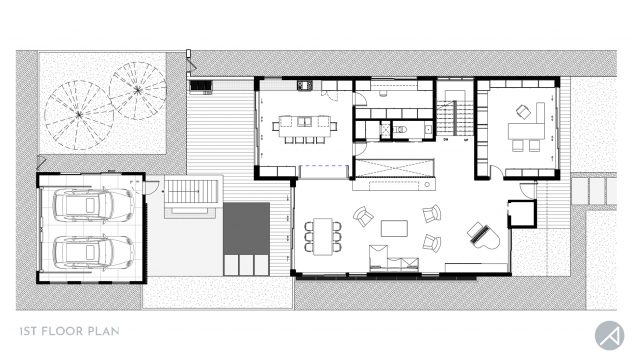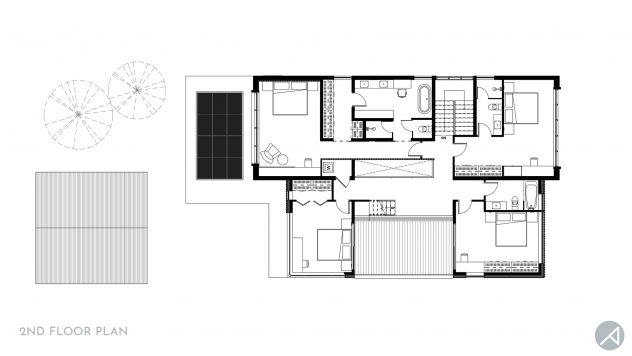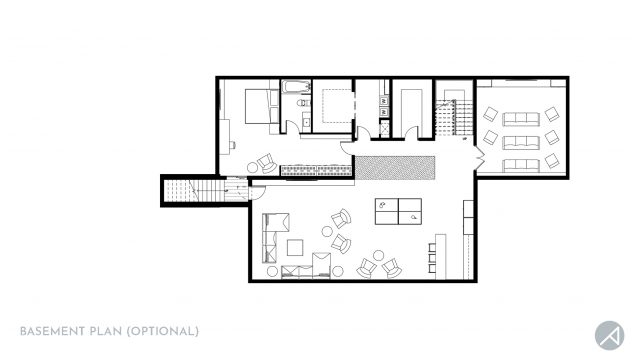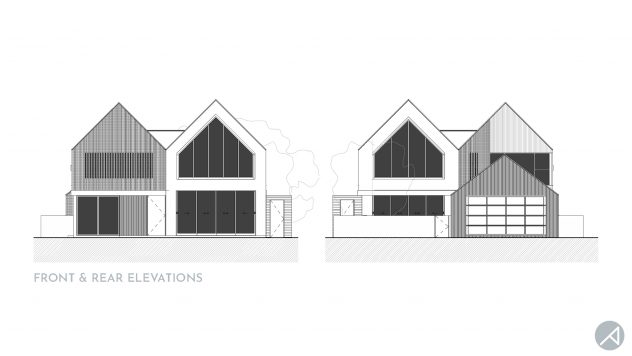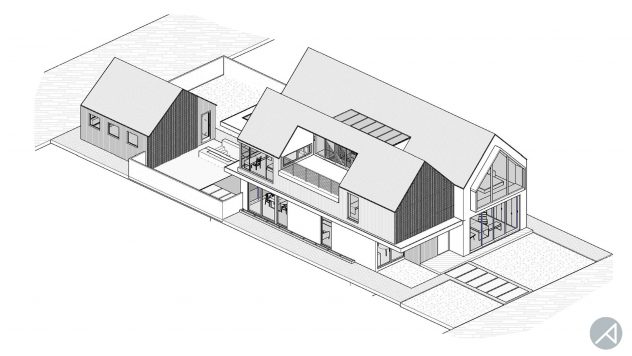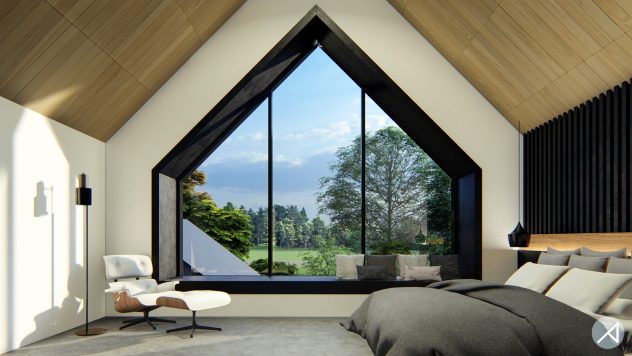 HOW TO BUY ARCHISTOCK PLAN #000-002 – MODERN SCANDINAVIAN HOUSE PLAN PACKAGES
Starter Kit Packages
A Starter Kit is a Schematic / Conceptual Set of the original design, in .PDF file format (non-vector files). The set includes floor plans, roof plan, 4-side elevations, and building sections of the original design (no design modifications) at a smaller scale (A3 or ANSI B paper size). This set of schematic drawings will come with measurements/sizes, room annotations, basic area calculation, etc, so it will be useful if you want to know more about the design prior to buying the architectural House Plans (especially if you want to make changes). If you are interested in purchasing the schematic / conceptual set before ordering the blueprint / House Plan set, please order the Starter Kit through this link:
House Plan Packages – Basic Plan Set (Original / Modified Design)
The blueprint / House Plan is available for purchase, either the original design or modified version. We can modify the architectural design and drawings to suit your needs. For example: reshape and resize the house so it can fit your land, rearrange the rooms and internal layout to fit your family needs and requirements, or modify the facade design, windows and roof.
The basic plan set is available in vector PDF and DWG/CAD formats and comes with the following items:
Floor Plans 

Roof Plan

4-side Building Elevations

Building Sections (min. 2)

Exterior and/or Interior Rendering Images (min. 10 – 15 views)

A Non-Exclusive Personal Single Use License
Additional drawings and other architectural design services are available if needed; e.g. additional drawings such as foundation plan, electrical plans, ceiling plans, site plan, etc.
Costs to build the house per square foot varies depending on several factors. Usually you can use our basic house plan or drawing set to obtain an initial cost estimate from a local builder in your city / country. Furthermore, if you buy our house plans, you can always customize the original design and plans to suit your preferences and budget (e.g. change the layout and square footage, modify door-window types and sizes, change some architectural material finishes, etc).
If you are interested in purchasing the House Plan and want to get a quote / fee proposal from us, please fill out our Order Form via this link:
We also offer architectural services to make custom / bespoke designs. If you would like to get a quote / estimates from us, please use this link to place an order:
HOW IT WORKS & PRICING
Please read our How It Works page for more details about our packages and typical project workflow. Please also visit Our Services and Products page to see the details and quality of our architectural drawings. If you want to estimate our design fees, please see our current Price List.
CONTACT US
Most answers to general queries can be found on our FAQ page. If you have other enquiries about information that is not provided yet, feel free to contact us here:
All images and drawings are protected by copyright and not to be produced, copied, or edited in any format without written consent from ANK Studio.